I live in the mountains in an apartment comprising of two bedrooms, living room, dining room, kitchen, Bath and a garden.
The electricity I use goes mainly towards the following:
TV
PC always on
Washing machine 3to 4 times a week
2 fridges
A water heater on a timer from 5 to 7 AM and PM
VAP mosquito killer at night
Extractor fan over the oven when I cook
Ironing
And other NORMAL activities.
NO A/C
Today when I came home after a hard day's work the attached was on my door.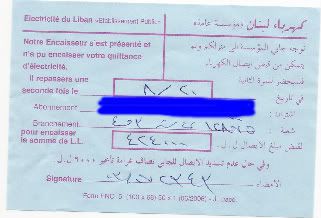 424,000 LBP (About 283 US Dollars) electrical bill. Last time such a gift was presented to me I called upon an electrician who checked the entire house and even changed the "resistance" on the water heater just to be safe. I was also told that there was no use in complaining as the electrical meter was properly read and accounted for. My bills did go down after that but, were always above the average of ALL my neighbors (even those with A/C). EDL checked the meter and claims that all is working fine
I think that every month subscribers are drawn like lotto, and EDL adds to their bills a few of those belonging to our "Divine Protectors" who until today refuse to pay their dues.
So do not be surprised if next time you come over, we will be drinking on candle light and playing guitar and singing in lieu of music.