I will spare you a detailed account of what took place today for it is widely available on the internet, and most of you have been glued to your TV sets; therefore are in no need of a reminder.
A wide array of analysis and predictions were offered for you to pick whatever tickled your fancy.
Regardless of so called facts aired or written, no one can dispute the fact that Lebanon is being taken over by what was once praised as the Divine protector against the ultimate evil that is known as the state of Israel.
Many of times did I state that Hassounah and his thugs have
one
agenda and
one
only; that of imposing their own vision of Lebanon.
Can any of you, after today, still have a shadow of the doubt?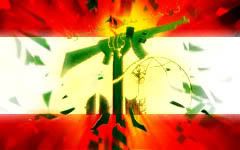 Roads are closed, tires are burnt, threats are made, people are held hostage at the airport, Iranians are flying in, new tents are being erected…etc.
And the army does nothing!
Michel Suleiman (and the other Micho who called for the toppling of the government today) say nothing.
M14 in their infinite wisdom (or shall I say lack of balls) praise the appeasing role of the army in such a volatile situation. Shots have been fired, B7 rockets were used, stones were hurled (even at army personnel), citizens were stranded, roads blocked (for no valid reason); and still our men in green watched.
Can you still seriously wonder why the Lebanese people are rushing to buy arms?
It is about time my fellow Lebanese to "call a spade a spade", enough with the talk of one sect (and
one
only) that has been ignored by past governments, one area (the south) left to rot. Poverty is no stranger to the 18 (19 if we still recognize the Lebanese Jews) communities that are part of this nation of ours.
This very same community pretending to be marginalized, used and abused; is not only better off (thanks to foreign aid, "al mal al halal") but has sold its Lebanese identity to foreign powers (Iran). This community by doing so has revoked its Lebanese identity, therefore its rights.
I, unlike others, will not hide behind my little finger and still claim that I am willing to negotiate with the likes of Hizbollah and those who follow them; for they have renounced their Lebanese identity.
I call upon my people to revolt and fight this cancerous cell even at the risk of having to amputate!
For those of you who might think it extreme I say : "bite me".